Good News Mamelodi • October 26-30, 2005 • Mamelodi Cricket Ground C4
113,000 Decisions for Christ!
Mamelodi is a township of about 1 million people just outside of the city of Pretoria, an hour north of Johannesburg, South Africa. This was our third mass crusade in our home country of S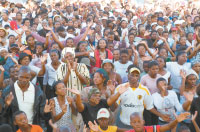 South Africa.
In preparation for the crusade, we set-up our offices right on the crusade grounds. When our team first got there, the office buildings were quite a mess. Just as in Umlazi, we paid for lights to be installed on the bleachers and left them there, so we sowed into Mamelodi by repairing and refurbishing these buildings. We repaired the broken windows, installed security bars, fixed and painted the offices, so that the community will be able to use them after we leave.
We did a huge advertising campaign to cover the entire area; we were able to distribute 1.3 million handbills, put up 7,000 posters and posted 11 major billboards. We also ran a huge newspaper campaign in four major South African newspapers. The city was buzzing with excitement when we arrived.
Pastor Rodney Howard-Browne interviews
a lady who received a healing.